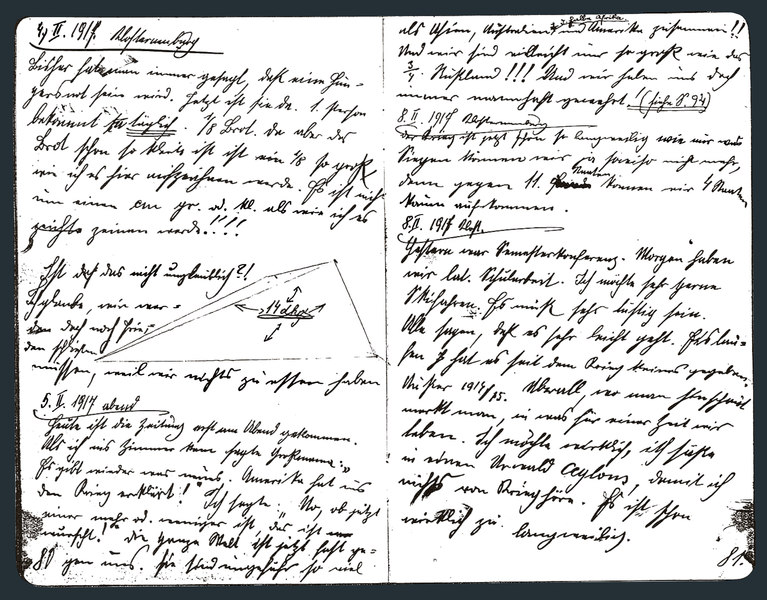 Medium
"Something new to report: America has declared war on us!", extract from the diary of schoolboy Richard Ruffingshofer
Transkript
5/2/1917, evening
Today the newspaper didn't come until the evening. When I came into the room Grandmama said: 'There's news. America has declared war on us!' I said: 'Oh well, one more doesn't really make any difference now!' Almost the whole world is against us. They're about as many as Asia, Australia and half of Africa and America put together!! And we're really only as big as ¾ of Russia!!! And we've always fought valiantly! (see S.
8/2/1917: Klosterneuburg
The war is now as boring as anything. We can't win now in any case, as we four states can hardly assert ourselves against eleven states.
8/2 Klst.
Yesterday the teachers' meeting to decide our marks for the term took place. Tomorrow we have a test in Latin. I'd really like to go skiing. It must be a lot of fun. Everybody says it's very easy. There hasn't been any skating since the war, except in 1914/15. Everywhere one looks one can see what kind of times we're living in. I really wish I were sitting in a jungle in Ceylon, so that I couldn't hear anything about the war. It's really, really boring.
Translation: Sophie Kidd
Copyright
Dokumentation lebensgeschichtlicher Aufzeichnungen, Institut für Wirtschafts- und Sozialgeschichte der Universität Wien