Forces correspondence from the left papers of Rupert L.
Excerpt from a series of forces letters from Rupert L. to his wife Monika L., written between March 1915 and August 1915 in diverse locations in the eastern theatre of war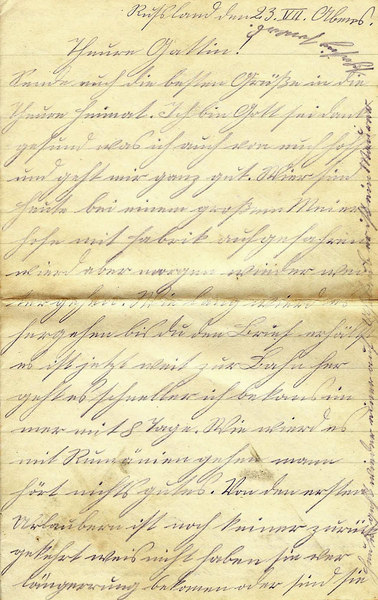 Russland den 23. VII. Abens.
Theure Gattin!
Sende euch die besten Grüße in die Theure Heimat. Ich bin Gott sei Dank gesund was ich auch von euch hoffe und geht mir ganz gut. Wier sind heute bei einem großem Meierhofe mit Fabrik aufgefahren wierd aber morgen wieder weiter gehen. Wie lang wird es hergehen bis du den Brief erhältst es ist jetzt weit zur Bahn her geht es schneller ich bekoms immer mit 8 Tage. Wie wierd es mit Rumänien gehen mann hört nichts gutes. Von den ersten Urlaubern ist noch keiner zurückgekehrt weiß nicht haben sie verlängerrung bekomen oder sind sie
/Heute geht wieder einer auf Uhrlaub er ist ein Maurer /spasig sowas.