Forces correspondence from the left papers of Rupert L.
Excerpt from a series of forces letters from Rupert L. to his wife Monika L., written between March 1915 and August 1915 in diverse locations in the eastern theatre of war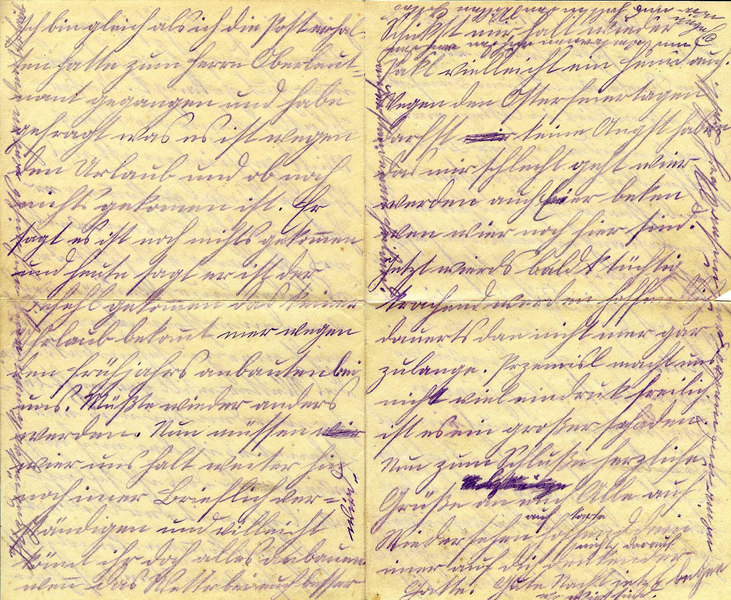 Ich bin gleich als ich die Post erhalten hatte zum Herrn Oberleutnant gegangen und habe gefragt was es ist wegen den Urlaub und ob noch nichts gekomen ist. Er sagt es ist noch nichts gekommen und heute sagt er ist der Befehl gekommen das keiner Uhrlaub bekommt mer wegen den Frühjahrs anbauten bei uns. Müßte wieder anders werden. Nun müssen wier uns halt weiter hin noch imer Brieflich verständigen und villeicht könnt ihr doch alles anbauen, wenn das Wetter bei euch besser
/wird.
/Ist zurückgekomen auch noch nichts wegen den Urlaub
Schickst mir halt wieder Pakl vielleicht ein Hemd auch. Wegen den Osterfeiertagen darfst keine Angst haben das mir schlecht geht wier werden auch Eier beken wen wier noch hier sind. Jetzt wierds bald tüchtig krachend werden hoffendlich dauerts dan nicht mer gar zulange. Przemisl macht uns nicht viel eindruk freilich ist es ein großer schaden. Nun zum Schluße herzliche Grüße an euch Alle auf Wiedersehen /auf [unleserlich]/ hoffend dein imer auf dich denkender /nicht darauf/ Gatte. Gute Nacht jetzt legen /wo wir sind/ wier uns nieder auf unser Stroh Bett. Geben wir uns halt in den Willen Gottes und vertrauen auf den auf den auferstandenen Heiland.